Your living room is where you spend most of your time at home. It's where you relax, entertain guests, and simply enjoy the comforts of your own home. So it's essential to ensure that your living room is designed to reflect your style and offer all the features and amenities you need to make the most of your time at home.
A big modern living room interior design
As you can see, this living room has been designed with modern and contemporary furniture. The sofas and armchairs have clean lines and are upholstered in white leather. They look very comfortable, and they offer a lot of seating space. The coffee table is also very stylish and has a glass top.
There are also some interesting art pieces on the walls and a large rug that defines the seating area. The floor has been covered with light-coloured wood, and some beautiful plants bring freshness into the room. Overall, this is a very stylish and modern living room that would make any home look more inviting.
Multifunctional living room interior design
Do you want to have a living room that can serve multiple purposes? Do you want a space to relax, watch TV, and even get some work done? If so, you need a multifunctional living room with a TV and study unit.
This living room is perfect for small spaces because it allows you to have a dedicated TV area and a separate work area. You can use the study unit as a dining table when you have guests.
If you want to create a multifunctional living room, start by choosing furniture that can serve multiple purposes. For example, get a couch that doubles as a guest bed. Or, get a coffee table that can be used as a desk.
Next, use storage furniture to create more space. Get a TV stand with shelves for your TV and books. And, get a sideboard or buffet to store extra dishes and glasses.
Finally, add some finishing touches to make your living room complete. Hang artwork on the walls, add a rug and throw some pillows on the couch. Now you have a multifunctional living room that will serve you well for years!
Small living room interior design
It would be nice to have a small living room that is both stylish and practical. In this case, you can opt for a design with unique elements. For instance, you can choose furniture with hidden storage space. This will help you keep the room tidy and organized. Additionally, you can also select furniture that can be easily moved around. This will give you the flexibility to change the room's layout whenever you want.
Another important aspect of small living room interior design is lighting. Proper lighting can make a big difference in the overall look and feel of the space. It can also help you create different moods in the room. For instance, you can use light fixtures to create a cosy and intimate atmosphere. Alternatively, you can also use bright and bold lighting to make the room seem more open and airy.
Lastly, you should also consider the colours you will use in the room. It is best to stick with light colours for small living room interior design. This will help make the space appear larger. You can also use accent colours to add more personality to the room. However, it would help if you were careful not to overdo it, as this can make the room look cluttered and busy.
Industrial vs Minimal Style living room interior design
When it comes to choosing a style for your living room, there are many different options to choose from. But two of the most popular types right now are industrial and minimal. Industrial-style living rooms are characterized by their use of rough, unfinished materials like exposed brick or concrete. They also often feature metal or industrial-style lighting. On the other hand, minimal living rooms are defined by their clean lines and simple, uncluttered look.
One way to add some personality to either of these styles is to choose a type of furniture with unique features. For example, an industrial-style coffee table might have a metal base or an exposed wood top. On the other hand, a minimal-style coffee table might have a sleek glass top or a simple wooden bottom.
A large TV unit with plenty of storage is essential to any living room, no matter the style. But the type of TV unit you choose can also help define the room's style. An industrial TV unit might be made of rough wood or metal, while a minimal TV unit might have a sleek, modern design.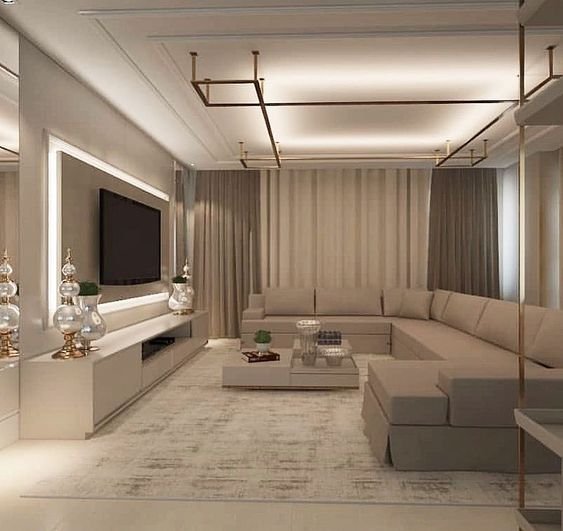 Another way to add personality to your living room is to choose a lighting style that fits the overall look. Industrial-style living rooms often feature metal or industrial-style lighting, while minimal living rooms might have simpler, modern light fixtures.
Conclusion
No matter what style you choose for your living room, make sure it reflects your taste and style. After all, this is the room where you'll be spending most of your time!