Open floor plans are the norm in modern homes and more often than not occupants are confused on how to separate living and dining areas. Whether you are starting your home from scratch or just looking for a simple add-on, our handy tips will help you visually demarcate these spaces like a pro, since space is sacred in most homes, open-plan layouts with combined living-cum-dining spaces are often a trend in urban Indian homes. The best part about an open-plan design is that it makes a home look and feel more spacious than it actually is. However, with clever planning, one can easily demarcate living and dining areas in two distinct zones without compromising on the openness of the space.This article explains living room designs indian style interior design in detail.
Here are a few unique ideas for you.
Elegant Lattice Partitions 
You have intricate laser cut jali designs on wood panels and metal sheets. Such partitions offer open floor layout yet creating a private space for each room.
For traditional interiors, you have paisley laser cut to other intricate motif design wooden panels. While for Modern Rooms, one can chose from variety of clean line, geometric design wood panels. There is a wide range of designs home owners can choose from when it comes to Room Dividers or Partitions.
Add a Pop of color to Walls 
The most economical way inliving room interior design is to accent you walls with bold color in one of the spaces. I.e. either you dining space wall or seating area wall which is usually the TV unit wall. There are variety of paints and shades easily available in market.
To add texture to your spaces, home owners can opt for textured paints that give you the effect you desire.
Functional Display Units 
Such partitions are excellent choice for luxurious to moderate room size. They serve two purposes – 
Display Unit Partitions divide the room in separate areas and

 (ii) It aids home owner's display beautiful artifacts, souvenirs, etc. that cut off the visual clutter interiors.
Spaces with Rugs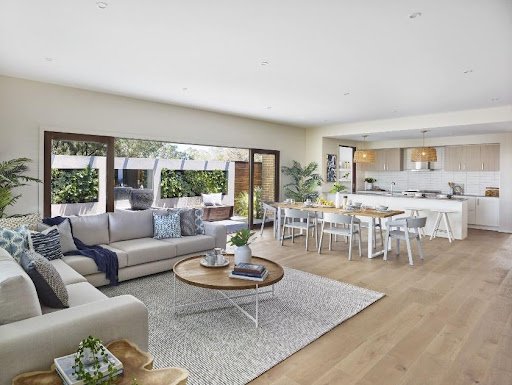 Adding a rug to a space adds texture, brings warmth, and infuses color, but it also works wonders at defining and separating spaces. Create clear separations between your living room designs indian style and dining room areas when you assign each one its own rug. It visually creates boundaries showing you and your guests where the living room begins and where the dining room ends. And since they come in so many shapes and sizes, you can always find one that fits. Just lay down your rugs and get to decorating. Well, that was easy, wasn't it?
 Make a statement with lights
Lights help set the distinct tone of the living room interior design and dining areas in an open floor plan. In this transitional themed home, differently shaped beaded chandeliers act as demarcates. A warm, soft glow illuminates the living area while bright lighting enlivens mealtimes at the dining table.
Sliding Glass Dining Room Partition
One of the best utilitarian dining room partition ideas that you can go for is a sliding glass door. This design idea is especially helpful for dining spaces that are combined with the bedroom. 
Enclosed Glass Dining Room Partition
A glass partition between the hall and dining is a great way to divide both spaces. You can use both sliding and folding glass dividers. A colorful glass partition between the hall and dining with intricate patterns and designs can brighten up the space. You can also choose from an etched or chemically treated glass partition design for the interior design ideas living room and dining hall. Glass partition design for the interior design ideas living room and dining hall gives you visual access to the entire room. A glass partition between the hall and dining also lets more natural light into your home. 
Wall Border Dining Room Partition
Dividing your dining space and your living room design doesn't necessarily mean that you have to choose a dedicated room separator. You can highlight the border of the separating wall to just aesthetically divide the two rooms
Install a Lattice Screen
Create an artistic demarcation between living and dining spaces with a lattice screen or jail in wood, metal or stone. A lattice screen offers privacy as it provides restricted views.

For an airy and expanded look, consider vertical slats between living and dining spaces.
Demarcate the Flooring
Synchronize the colors and living room interior design areas but use a different flooring material to demarcate the space into two zones. Some of the popular combinations include the use of different types of tiles and the combination of marble or tiles with wood.
Use a wooden frame as a divider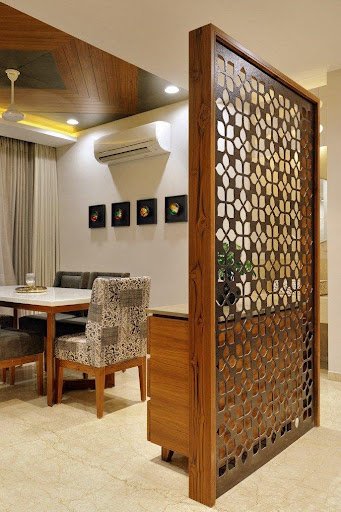 With wooden frames, the benefit is the seen-but-not-seen illusion that divides a space. Wooden frames ensure privacy and demarcation of task areas without actually being opaque or blocking natural light and sound. You can opt for foldable wooden frames if you'd like to merge the areas once in a while– Chinese-style folding screens make great talking points while doing their job. Alternatively, get a semi-permanent divider upon which to arrange plants, trinkets and decor pieces.
 Install a laser-cut panel in a creative pattern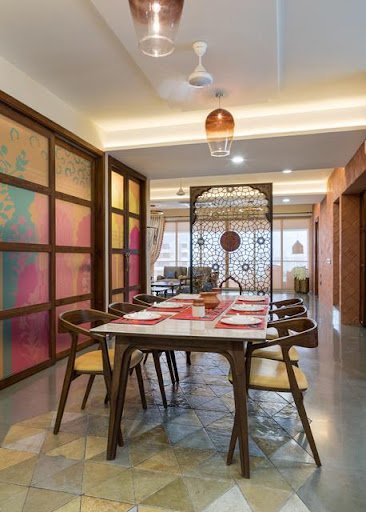 Looking for modern partition living room interior design? Gone are the days when we put up carved wooden panels at home? It's the era of laser-cut wood or acrylic panels that can be cut out in any desired shape. These panels can be used as a hall dining partition and it will give an almost exclusive look to this space. We love how the above home has got a glass and laser-cut panel in stark contrast to the rest of the area.
READ NEXT:4 Ways To Upgrade Your Living Room With Luxe Interior Design
RELATED TOPICS: Decorating ideas for living rooms