Your living room is where you can be your most authentic self. It's a space to relax, entertain and make memories with those closest to you. But if your living room feels tired, untouched or just not quite right it might be time for some changes!The primary goal when decorating any space should be to make it personal – something that reflects who you are and what makes you happy. With these few simple guidelines below in mind, we hope to help get the creative juices flowing for refreshing living room decor ideas for your home!
#1 Your living room is really the heart of your home. It's the place you go to relax after a long day, to sleep in and to have visitors over. Why not make it feel just like that? A classic patterned rug can work wonders to liven up a space while adding visual interest and function as they can be used in multiple other rooms throughout your home.
#2 Be sure to consider lighting when creating the right ambiance for your living room. Often it can be used to draw the eye to different focal points. Soft light is perfect for displaying artwork and photographs, while overhead lighting can be used to great effect in a more formal setting.
#3 Be open to color! It's easy to fall into a pattern of decorating your living room with just muted neutral tones or earthy, rich textures. Don't miss out on adding a pop of bold color by using your accessories or even art pieces as accents in your space.
#4 Don't be afraid to mix and match textures. You don't have to choose between a traditional, sumptuous fabric or a flat, stone finish. Instead, incorporate both! Keep the softness and comfort of fabric in your living room with a solid sofa and throw pillows that incorporate bold patterns or unique textures. Then take it up a level by surrounding yourself with beautiful hard surfaces such as marble or granite table tops that add some unexpected drama to your space.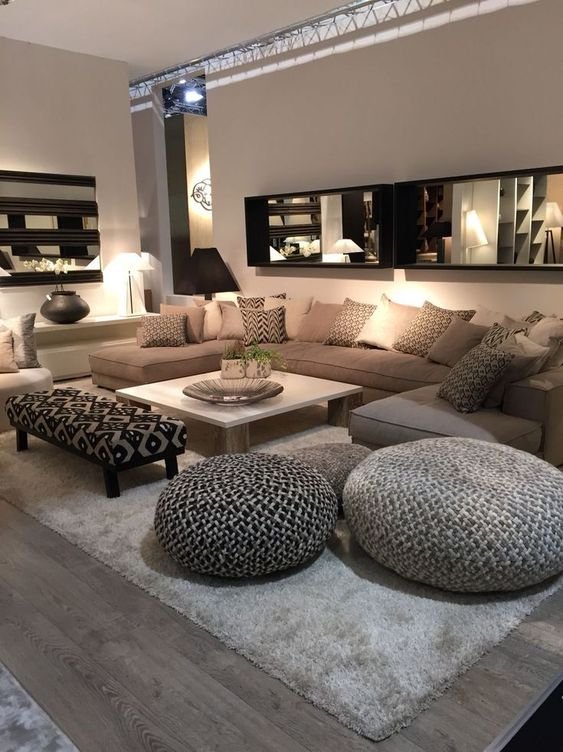 #5 The right art can completely transform your living room. A gallery wall is the perfect solution for bringing together a cohesive collection of art while also adding visual interest to any room. The key to making it work is selecting a variety of different shapes, sizes and styles of art so that it looks balanced and intentional instead of hodge-podge or haphazard.
#6 Seating is key to creating the right feel for any room, especially a living room. Choose pieces that are easy to both mix and match and ones that can be used across multiple rooms in your home – but also ones you'll love just as much in front of the TV watching classic movies as you do hosting friends for dinner!
#8 Consider adding accent pieces throughout your living room to bring together various elements of different styles. In a more casual room you might want to choose a rustic, natural element – in an industrial space it could be an urban, contemporary accent piece.
#9 Don't be afraid to get creative. A perfect example of letting your personality shine through can be seen in this eclectic living room! This space is full of fun and energetic elements that came together as a whole for a look that really stands out. If you're feeling stuck on how to make your living room unique, take some time working on small details like color or texture.
As a Result
As you can see from this article, there are many different ways that you can go about refreshing and decorating your living room. It's a room where you can really express yourself and show off your interests and personality, so keep that in mind when creating the perfect space for you!
No matter what your style may be, there are endless living room decor ideas to inspire you. By choosing furniture, colors, and accessories that reflect your personal taste, you can create a space that is both stylish and comfortable. Whether you prefer a sleek contemporary look or a cozy traditional feel, your living room can be a reflection of your unique personality and style.
If you work through the above steps to define what make your living room unique, then you should be well on your way to. Take some time to think about what you want to accomplish and then get creative. The end result will be a happy home for yourself!