Have you ever dreamed about that big, beautiful house with a fantastic garden and a massive swing in front of the windows? But then you wake up, and you are still in the small apartment. And you start feeling bad about it. So you live in a small apartment, and you feel like it's just too damn small. You're constantly bumping into things, your room feels cluttered, and you can never find your stuff. If that sounds like your life, you're not alone. Small apartments are prevalent, but that doesn't mean you have to give in to the chaos and disorganization. If you live in a small apartment and want to make it feel more spacious, you have come to the right place. Here are 15 Apartment design ideas for making your small apartment more spacious.
15 best Apartment Design Ideas 
Mirrors create an optical illusion to make a small room feel larger. It's a very effective trick that you can use in your small apartment. Mirrors are a great way to make a small space feel larger. Hang a large mirror on the wall in your living room or bedroom design. Mirrors reflect light and make a room look larger and brighter. 
The most important thing you can do to make your apartment feel more spacious is to make sure every wall is painted a light color. If you choose a very light color, the space will feel bigger. Light-colored paint can brighten up your home and make it seem more significant. Trim and other details can be darker than the rest of the walls.
Light is one of the best things to make your tiny apartment feel more spacious. Windows can make all the difference in a small room, so it's a great idea to add them if you don't have enough of them. 
Be Creative with your Storage Solutions
Make the most of the space and the storage by hanging shelves on the wall or a cabinet. In this way, you can save a lot of space on the floor and get the most out of your apartment.
Try to use small things like a small desk, a small couch, and a small chest of drawers for your small apartment. All of these small furniture pieces can make a big apartment more spacious. Ensure the specific need comforts you and gives your apartment an aesthetic and neat look. 
Choose a large round dining table
A large dining table can help you make a small room feel more spacious. While sitting at the table, you will feel more secure and feel the space around you.
Get rid of the many small tables
Small tables everywhere only make the room seem smaller. And it's more challenging to clean. Choose one table and move the rest to another room. Round table look more space free.
Display Your Artwork Carefully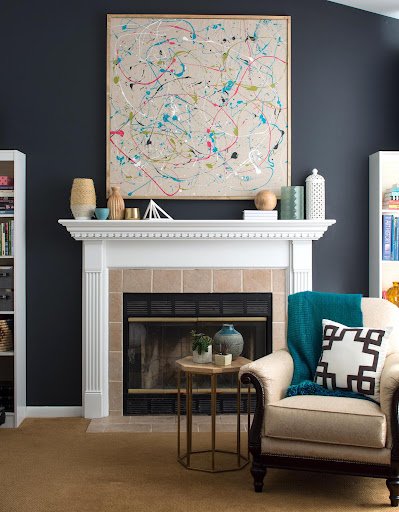 If you own an extensive art collection, you know it can be tough to decide what pieces to display. But when you can't afford to reveal everything, choose carefully. If you hang art in every room, it will help make the space feel more cohesive, making it seem more significant.
One of the best ways to make your tiny apartment feel more spacious is to use some creative partitioning. This could mean installing an actual wall between rooms or moving your television and other media storage units into the living room. If your home is a single room, try adding built-ins or drawing the existing walls with a fresh coat of paint. 
The corner is the best place for a couch! Of course, if you can have a rectangular sofa, you could put it anywhere. But if you have a small apartment, you should put it in the corner. So it will make your apartment more spacious.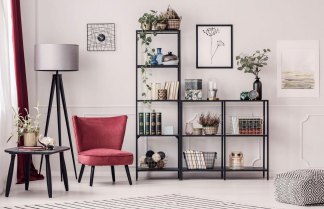 Rugs and bookshelves help separate the living room from the other rooms, improving the feel of the space. Adding a shelf on the wall with a collection of books and other items creates another layer of distance. The plants make this room warm and provide a soothing feel. Bookcases are one of the best ways to make any room look more spacious. Even if you don't have a lot of books, they give the impression that you do.
 It is a magical way to enlarge the space. With curtains, you can easily change the atmosphere in your apartment. It will help if you hang curtains made of natural materials. This will allow them to breathe.
Curtains made of synthetic materials can make you feel like a sauna, even if your windows are open. And the best part about it is that you don't need a large budget. Just check out your local thrift shop.
Choose plants that are small and need little maintenance. This way, you will be able to enjoy the beauty of your plants while saving money on cleaning and indoor air quality. This is a classic design trick. The more plants you have, the more oxygen, the better! 
Mini Entertainment Center Nook
Use the area around your TV as your entertainment center. Build a variation of the entertainment center around your flat-screen TV. I've done this, and it works great.
Create a cozy reading nook
If you are a bookworm, you most likely have a lot of books. And, if you have a small apartment, it can be hard to find a place to store them. This is why creating a cozy reading nook is a great idea. And it's super easy to do.
Conclusion
Not everyone is lucky enough to have a large home. If you live in a small apartment, it can be tough to make it feel more spacious. Fortunately, there are some great tricks for making a small space seem more significant. Whether you're looking for ways to clean up clutter or make the most of your small space, these ideas will help you make the most of your small apartment.
READ NEXT:6 Amazingly Beneficial Ideas For Improving Your Small Apartment
RELATED TOPICS: Decorating ideas for living rooms