lighting design give your best design house an appealing look. Do you want to make an exceptional first impression on your guests? Adorning your entryways is a great way to do so. Make your entryways more appealing with incredible lighting ideas to attract the attention of your visitors and make your best design house more welcoming. 
Poor lighting can be a cause of your horrible impression on your guests. But don't worry! There is a solution to this problem. You can carry your home decor design overall aesthetic by working on the entryways. Make it a showstopper every time guests walk through the door with the proper lighting system.
7 Lighting Design Ideas For Your Entryway
Why not enhance the charm of your home decor design entrance, which contributes so much to its overall appearance? The value of entryway lighting is sometimes overlooked, but it can set the tone for the rest of your home. Here are some lighting ideas you should consider before renovating your entryways.  
Wagon Wheel Chandelier In Candle Style
The wagon wheel-shaped chandelier is a bold statement item of lighting design that works well in any space. If you don't want anything more crystal-like, you can choose this alternative. 
 It's an excellent option for bringing a touch of rustic character to your foyer. It is built on an iron frame that supports the wooden rings. The ring contains all five light bulb slots. It works with candle-style bulbs and can be dimmed with the appropriate settings. 
Go Contemporary With Geometric Chandelier 
This lighting design idea gains mastery when it comes to exquisite and dazzling light installment. This is the type of doorway light that makes a statement. Geometric chandeliers work as an elegant and intricate element to brighten up your house's entryways.
You can create a modern vibe to your entryway by placing rings, rectangles, or squares of different sizes. These geometric shapes in a chandelier can turn your dull interior into a sleek modern one. 
Semi-Flush-Mounted Fixtures For A Small Space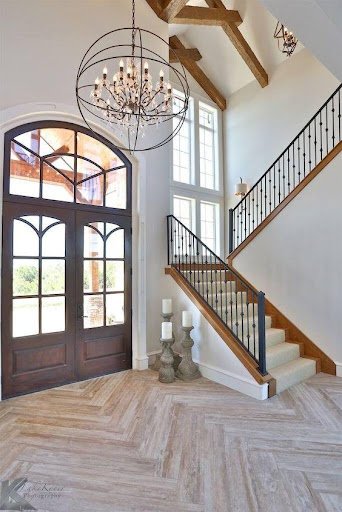 Semi-Flush-mounted fixtures can serve as simplified lighting ideas for low-hanging entryways. It provides adequate light without taking up too much room.
Turn your space-constrained contemporary entryway with a clean-lined design. With the help of these flush-mounted lights, the foyer will get a stunning appearance and brightening atmosphere with ample Lighting. Depending upon your liking, you can choose the shape of these fixtures. 
Wall Sconce on both sides of the wall
You can go for this lighting idea if you want something simpler yet graceful. Make your heavyset doors take center stage with some slender and discreet cylindrical wall sconces. These are both highly fashionable and functional to make a great entryway.
A typical rule for placing door-framing lights is to set each lamp 6 to 12 inches from the door casing to preserve an even, symmetrical effect. This way, you will get a well-organized entrance for your home.
Use More Than One Lighting Source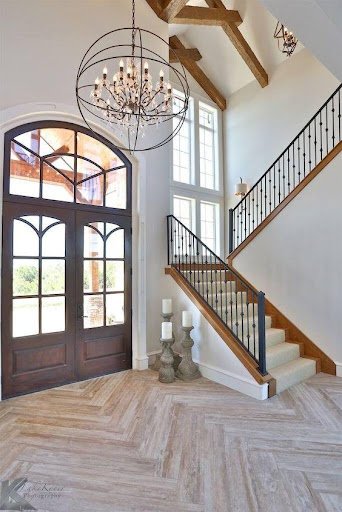 Are you ready to make your foyer more dramatic and illuminating with lighting design? Try using this trick! Maintain a sense of cohesion in a long entryway by repeating components in a consistent rhythm throughout the space. 
You can employ several pendant lights or equally spaced matching flush mount lamps. The pattern will attract the eyes down the hall and give the impression of a planned design.
To adorn your entryways with incredible Lighting on a budget, you can use light wreaths and twinkle lights. String lights leftover from festivals and special occasions can create unique decorations all year.
You can embellish your double door entrance framed by a fairy-light-strewn garland. To create a more natural look, you can use plants covered with twinkle lights adding a cheerful atmosphere. Although we use these decorations for holidays, still, you can use golden light wreaths as an entryway lighting around your door to create a welcoming entrance for your guests. 
Caged chandeliers are a terrific way to create a statement in your doorway while also adding flair and lighting functionality. This adds interest and much-needed light to your entryway. 
The caged design and metallic embellishments will integrate effortlessly with exposed pipes and rustic wood floors. Using a caged chandelier will be a great way to add a rustic character to your home entrance. 
Wrapping It Up!
Your home entryway is the most crucial aspect of any home that makes an impression. By gazing at your entrance, any visitor entering your home can judge and complete the picture of your entire house. The aesthetic lighting design sensibility is reflected in an excellent and wonderfully illuminated entryway. So, save your time and make your entryways appealing with these lighting ideas!
READ NEXT: Creative DIY Lighting Ideas That You Can Make At HomeRELATED TOPICS:Lighting Designs