Interior design ideas help you how to decorate your home in the best possible way with low budget.It's not a secret that Italians have a great sense of taste. Italians always make a statement, whether food, clothing, automobiles, jewelry, or even handbags.
You shouldn't be surprised to know that design for interiors is among Italy's strengths. From intricate wall and ceiling designs to the Renaissance and the unique mosaics of the Roman Empire, interior design has focused on Italian culture and life for centuries.
Combine Old Style With New
During such an extensive and varied history, the main goal of the Italians interior design ideas was the need to preserve Italy's history in architecture. If you walk through the streets of any town or city in Italy, there are several older buildings. However, you will be amazed to see furniture and designs with a modern look on the inside. Mixing modern and ancient designs is a common way of life for Italians.
If you don't reside in an elegant or old structure, do not fret because you can recreate the same feature characteristics of Italian design. Explore antique markets and second-hand furniture shops to find antique furniture to give an element of rustic to a modern house.
A home in Mantua, Italy, is a perfect example of how appealing and fascinating the mix of modern and antique interior design ideas and elements could look. A neutral color scheme, vintage ceiling designs, contemporary decor antiques, and architectural details create a beautiful Italian interior design with a distinct look.
Italian Kitchen Design
What is a living kitchen, you might ask? It's just what it sounds like. Within Italian culture, the kitchen has grown over time to become a place to relax rather than just a place for cooking, cleaning, and doing work. The center of the home, the kitchen, where families come together after a long workday to discuss, make meals, and relax.
Installing a chimney to keep it tidy and free of smoke. Choose innovative storage solutions such as magic corner units and combination drawers, cleaning cabinets, and skirting drawers to maximize storage space. An organized and clutter-free kitchen is the core that is Italian Kitchen design.
Make some free space in the kitchen and put some seating chairs in the area to sit and relax. It's a better way to test your skills in making authentic Italian pasta.
Designing Pieces and Smart Lighting
We've all heard that Italians are generally known for having an eye for fashion-forward clothes. It's no surprise that they like to add a touch of luxury to the home. It's not unusual to see Italians save money to indulge in a stunning piece of furniture designed by a designer for the house. Italian interior designers are trendsetters worldwide, mixing modern style with traditional elegance and refinement. 
Lighting is an integral part of the style of Italian interior designers. There isn't a single way to select a style or formula for lighting Italian interiors. The lighting style can be altered according to the style of the building or house. If you reside in an apartment in the city, a large, striking, and sparkling chandelier can be a perfect way to emphasize the height of the apartment.
Minimalism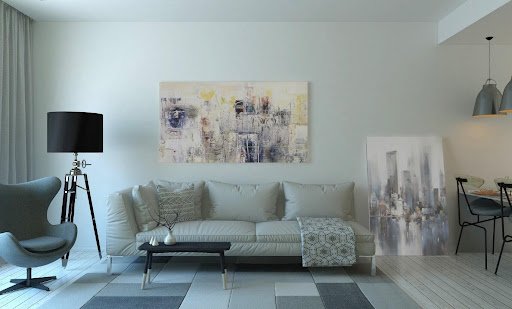 Although Italians do not embrace minimalism to the degree that of the Japanese and Scandinavians do, the rule is that less is more for the Italian style of interiors. Nowadays, Italian homes tend to have a clean and simple feel. In contrast to their predecessors, who loved decorating their homes with lots of ornaments and figurines, our generation is more inclined to keep items in safe storage.
Cleanliness is highly desired in interior design ideas and as previously mentioned, Italians use the space by adding hidden storage spaces to hide clutter. Furniture should be chosen worthy of its location in the home by having an obvious purpose.
In most Italian homes, some furniture pieces are often used for more than one purpose to use the space. For instance, a couch can be converted into a bed or a comfortable chair with storage space in its arms and the base.
Conclusion
Following these Italian interior design ideas allows you to add an element of elegance and luxury to your house. Whether you choose to make a few subtle changes to your style or go for the whole renovation, that is true. The Italian culture is a mix-match of modern and classic tones in a holistic view. Though Italian architectures have adapted to the modernization in the World, they love to incorporate their traditional style while designing home interiors. 
READ NEXT: Ideas to decorate antique and vintage homes
RELATED TOPICS: interior design