A wave of interior designing changes home building styles one year after the other. Ever since the onset of Corona-19 and its social restrictions, many lifestyle changes were made including interior designing and home improvement pushing designers and home builders into creativity. Continue reading this article to know better about home design. 
This blog will show you how home building designs are going to take rounds in 2022 and later. This list is flexible for you to choose from what's trending and how you can inaugurate these designs while building your home. 
Here is the list of building designs for your home and inspiration even if you are renovating the old one. P.s it is newer and better.
Home Office Design
Who imagined a career working from home design before the Covide-19 taught us? The pandemic taught us that your dining room chair and table only is insufficient for your work for home needs. So, what we know is the importance of a home office in your interior design.
With that being said, every home designer looks for the area with the most noise calculation and good lighting. The interior designers are creating multi-purpose shelves and lighting windows that make working easier.
Curved Elements
The new and exciting thing about building exterior home design is the curved openings and barrel-wall ceilings. This trend makes the look more interesting and different from the usual straight roofs and openings.
The curved entrances and window ceilings allow round doors. The arched looking homes are the new building trend in 2022. 
Outdoor Sitting Areas
The pandemic and social restrictions have forced people to live indoors and crave for breath of fresh air. The new designs in 2022 promote outdoor interior arrangements that let the family bond over a fireplace, pool or lawn even while social distancing. Some designers are creating outdoor living rooms and luxurious porches to make your home sufficient for all the needs.
Colorful and Streamlined Kitchens
Home makers are promoting colorful and bright kitchens and take a break from the neutral tones. The kitchens of 2022 are going to be deep blacks, bright greens and red ones with contrasting chairs and lamps.                                      
The kitchen cabinets and appliance units are going to be changed with streamlined looks and no prominent holders. These kitchen design are going to be mixtures of materials with graphite and marble counter tops. 
Black Highlights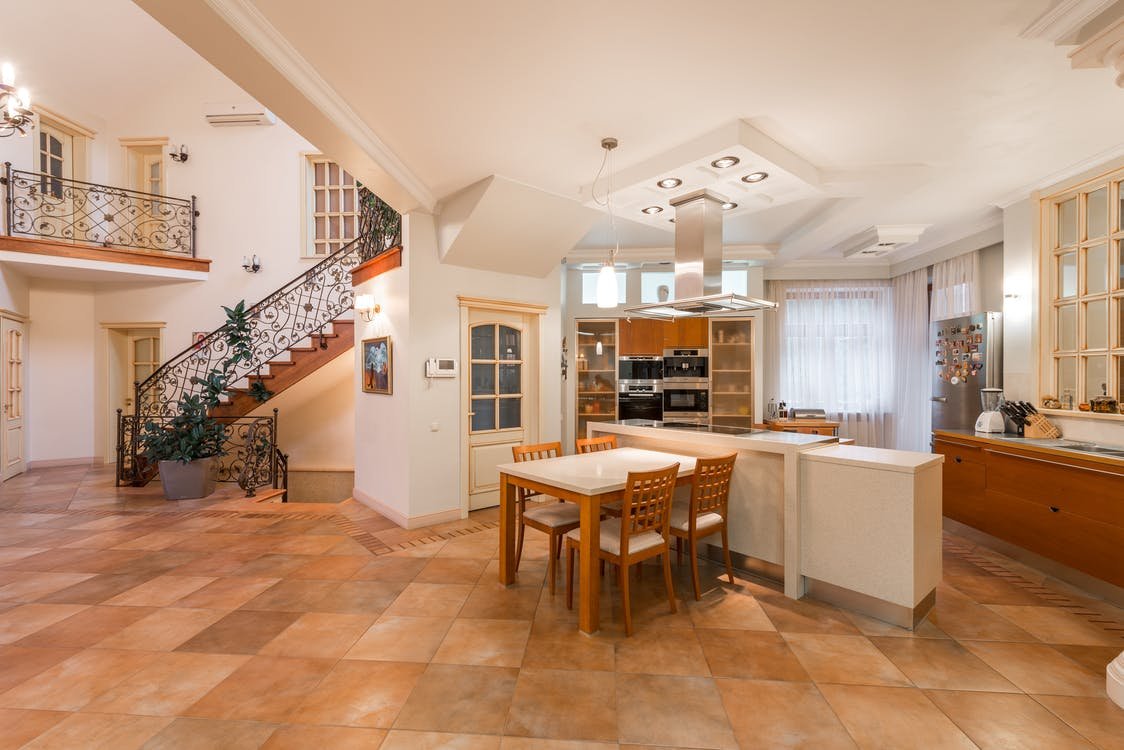 The interior twitch that is trending on lists is the black outlining to ceilings, doors and windows. These black highlights give bold accents to the interior and make home design more prominent. 
Add pop to your rooms and outdoors with black lining borders paired with the neutral wall colors. This is an uplift your interior was looking for. This tip is not too difficult and requires a little black color which is good for the budget and also a great idea for your house revamp.
Biophilic Designing
If you are interior enthusiast, you know the word biophilic taking turns around in the designing world. We all spend limited time outdoors since the pandemic broke out. Hence, the need of natural elements such as plants, sunshine and fresh air is more appreciated in interiors. The latest interior trends include huge windows for sunshine, airy rooms and plant arrangements indoors. 
Patterned Hardwood Floors
The hardwood flooring never goes out of style. This time it comes in newer and better ways with trendy patterns. With all the interesting interior trends, pattern wood work on your floors and roofs is exhilarating.
Bring life to the old roofs and floors with geometrical hardwood designing. These roofs and floors bring cozy vibes and vintage feel to your interior. Plus, these work with every type of furniture. 
Metallic Roofs
Now that is new home design. The metallic roof is the most environmentally friendly trend of home building in 2022. These roofs are long lasting and give a lush shiny look to your house. The metal roofs are more durable and long-lasting than the usual asphalt roofs.
These roofs are made of recycled materials and serve sustainability. Plus, they give a lush look to your home with its texture. The interior designing has taken its leap this 2022 with exotic ideas making up for trends. Use these ideas in your home and update your interior in a modern and more practical way of living. 
READ NEXT:6 Amazingly Beneficial Ideas For Improving Your Small Apartment
RELATED TOPICS: Decorating ideas for living rooms