Are you living in an urban area? Where there is no concept of garden or backyard in your flat or apartment. Greenery has a lot of importance in urban areas. According to researches, it is important to reserve 10 percent of greenery in urban areas. So that it acts as a source of habitat for different types of bees, butterflies, etc. besides this, it is a source of fresh air, human wellbeing, and beauty. As most of the people in the urban areas have limited access to parks and other natural environments. So, an approach is used where different types of plants are grown in the balconies of apartments. This article is based on the garden ideas, that green is always a style during a landscape design.  To create your own oasis with latest terrace garden design stay tuned with us.
 Selection of place
As mentioned earlier that urban areas have lack greenery. So, to create your own small terrace garden design of your apartment we are sharing beautiful landscape design ideas.  The first step involved is to select a place where you want to establish your mini garden. As most of the balconies are made in such a design so that it attracts people's attention. And where the occupant inhales a fresh breeze of air. Or to take some sun. we suggest selecting the sunny side of your balcony for a mini garden. As the plant will receive enough sun to meet their daily requirements. Besides this, it gives charming look to the passerby.
If your apartment has no balcony, there is no need to worry about it. If you have decides to increase greenery. Then you can select a place near windows, from where there is access to the natural light.
Soil properties
In balconies, the green plants have no access to go through the earth. So, there is no way to get nutrients from the earth, which are necessary for plant production. You will need high-quality soil for plants that is rich in nutrients. So always try to buy high-quality soil. When you put the soil in different pots. It will help to fulfill the plant's needs. the green plants will create a beautiful landscape design through your balcony.
Plants selection
Another important fact for a terrace garden design is the selection of plants to create a perfect landscape design. If your balcony is on the sunny side. You can grow different plants like Agaves, Rosemary, Australian natives, Sansevieria, Succulents, cacti Lavender, etc. If your balcony is slightly shady you can use plants like alocasia, snake plants, Begonias, Bellflowers, Chrysanthemums, Angel's Trumpet, ivy, etc.
 If you have no balcony you can use indoor plants like Bamboo palm plant, Satin pothos plant, Spider plant, Boston fern, and Rubber plant. etc. these plants will boost greenery inside your latest home design. Besides, there is a lot of other combination of plants. you can get it by visiting the nearest nursery. plants selection must be unique for balcony and best design for home.
Take care of space
 Another important factor that is worth mentioning while making your own mini garden at your apartment balcony is space usage. Always plan carefully to get enough space and beautiful landscape design. Make sure you sect plant that does not cover large space at ground. Also, use those plants that spread over grills and even walls to give your apartment green and a fresh outlook. 
Besides this one of the best space-saving gardening ideas is to use hanging pots. As it saves a lot of space. While giving your balcony a green and charming look. Make sure you use small-weight pots so that hooks catch them perfectly. You can install small plants in pots and stick them on your balcony walls.
 Rooftops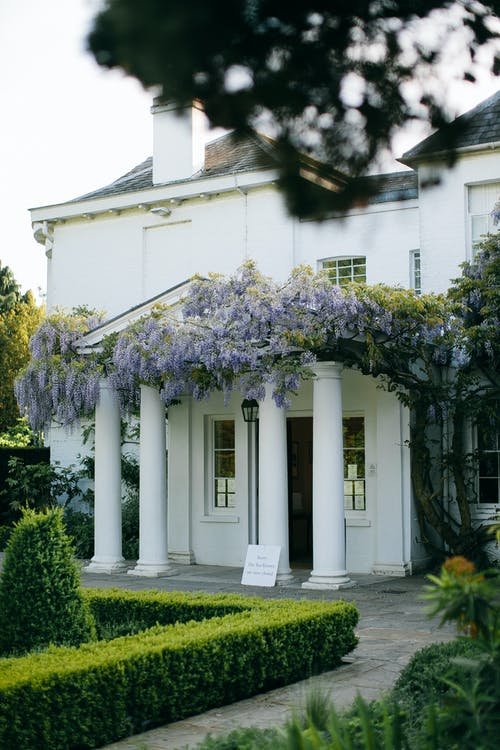 If your thrust of dipping in green is not over, you can use your rooftops to expand the greenery in your home. Adding a structured umbrella, a rug, and potted plants to your rooftop will give an amazing look. You can secure your privacy by growing more vines and shrubs plants.
 Porches and stairs
We discussed balconies and plants best design for home terrace and garden design. This will help in adding greenery to your home decor. You can also utilize your porches section to add some greenery to your latest home design. A small space decorated with green plant give a welcome message to your guests. You can follow the same procedure as mentioned above for adding a green look. Like adding pots plants, hanging plants, etc.  Besides this of you have steps in front of your door. You can utilize the sides of the stairs by adding different lowers and pots plants.
READ NEXT:10 Eco-Friendly Home Improvement Tips And Decorating Ideas
RELATED TOPICS: Landscape ideas