Your bedroom is your private sanctuary — where you can sit back, relax, and just … be yourself. It is also where your true style shines because the only thing kept in mind while decorating ideas it is your personal preference. lets move forward to know more about interior design bedroom.
Because it's such a loved space, it deserves a makeover every once in a while (that's also a good excuse to satiate your inner interior designer, *winks*). And just because your Bed Room Design should be comfortable doesn't mean it can't be trendy. 
In fact, there's room to take inspiration every step of the way as you decorate to make sure your bedroom follows the latest living room design. In that regard, let's delve into the latest Bed Room Design ideas for 2022 and beyond, so you can relax the glamorous way!
Different Textures Amalgamated Together
Up until last year, print on print was a thing. But that has now been replaced by something more classy — texture on texture.
You can introduce different textures in the  interior design bedroom in many creative ways. Hang a bouclé drape from your window, place a velvet-covered armchair in the corner, use a sateen cotton bedding, or hang a plush blanket from the edge of your bed. 
The end goal is to introduce warm, toned textures that complement each other and the overall ambiance of the room!
Headboards That Make A Statement
The center of attention in all house interior design is definitely the bed. This makes it essential to be mindful while choosing your headboard. Although there are various varieties available, two trendy options include:
Upholstered headboards 
These are highly customizable, so their material, pattern, and colors can go well with the theme of your interior design bedroom. 
The cherry on the cake has definitely got to be the added comfort; you can spend hours leaning against them cozily without needing a single pillow!
Natural woodsy headboards 
These add the perfect rustic vibe to your latest living room design. Invest in a good-quality wooden headboard, and it'll last you till the end of time! 
Jokes aside, wooden headboards are actually known to be passed down generations, partly owing to the fact that they can easily (and quickly) be wiped clean. 
Elegant Canopy Bed Frames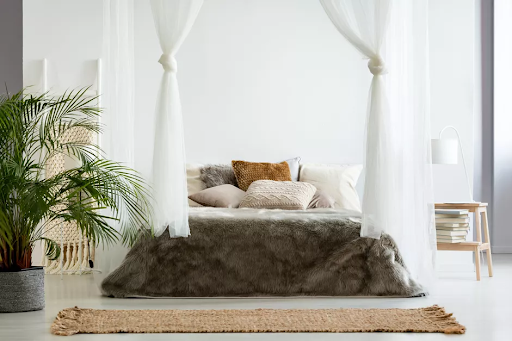 If you're in for some drama, make a statement with a canopy bed frame. These add a hint of elegance to your bedroom while making it unique — and are indeed becoming one of the top trends for 2022. 
Iron frames are a very stylish option in that regard, also allowing in plenty of light. If your canopy is dark-colored, be sure to use white bedsheets to create a bold contrast.
A Dash Of Marble Magic
Marble doesn't only belong in the kitchen. In fact, it's a fantastic way to upgrade your bedroom luxuriously. 
From marble flooring to a coffee table with a marble top, there are plenty of ways to introduce the magic of marble to your interior design bedroom. But if that's out of your budget, here are three fun and inexpensive Home Décor Ideas:
Use adhesive marble wallpaper on one best wall design for bedroom of your room

Use pillow covers with marble prints

Cover your clock with marble wallpaper and add metallic detailing
Being Big On Sustainability
As people become more aware of their impact on the environment, sustainable items and practices are becoming a trend. And because we spend a large part of our day in our room, investing in eco-friendly items is a win-win situation.
Use organic mattresses and bedding (both of which have health benefits as well), adorn your bedroom with a plant or two, and minimize the wastage of resources. Also, be sure to donate everything you no longer use. After all, being responsible human beings is classy in itself!
Bold Bedroom Hues
Earthy tones have been around for their calming effect, and rightfully so. But adding in a pop of color is gaining popularity by the day.
Paint one best wall design for bedroom of your room a bold shade, such as orange, green or burgundy. If you're not ready for such a massive change, perhaps use vibrant bedding, or start off with baby steps by incorporating brightly-colored pillows and throws.
Let's Get Decorating
With 2022 being just around the corner of the modern interior design, now is the perfect time to roll up your sleeves and give your beloved bedroom a makeover with these interior design bedroom ideas. And there's definitely no better way to start than by taking inspiration from the latest bedroom design trends, as discussed in this blog.
Remember — keep it creative and comfortable!
READ NEXT: From Classic to Unique: 30 Wallpapered Bedrooms
READ NEXT: Interior design for bedroom