Are you considering redecorating your bedroom? You can always start with wall paint to give your room an instant makeover. Changing the paint color in your bedroom may give it a whole new look and feel! Let's explore some paint colours ideas for house to create your room dreamily yet elegant!
Room color psychology is an essential element of your daily life. It can alter your moods and energy levels simply to a great extent and create a serene, relaxing environment when chosen correctly.
There are several suggestions regarding the perfect colors to use in a bedroom. Each person has their preferences and likes. Because you spend hours in your bedroom, it's critical to establish a refreshing and mood-boosting environment with an elegant look. 
5 Unique Paint Color Ideas For Your Bedroom
Visualizing how a color scheme would work with the lighting, furniture, and general decor can be challenging. Check out the following unique bedroom paint color ideas before you go to the hardware store!
Pretty Cream And Beige In A Neutral Color
Who says cream and beige have to be boring? These neutrals are great so far because they are dependable, flexible, warm, and modest. An extremely light beige tint will add just the proper contrast to the space and bright furnishings. 
It's a little warmer than white, and with the right accessories and furniture, it can completely transform the look of your bedroom. Consider earthy tones like taupe, dark beige, or light brown to go with this wall color. To make this color stand out, even more, add a contrasting color to the ceiling and window panels.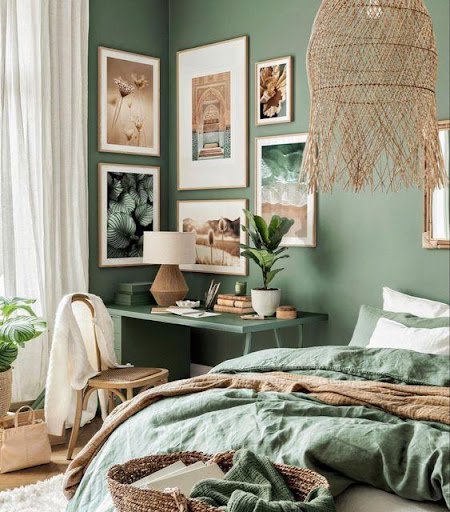 Another paint colours ideas for house is sage green option. For years, sage green has been a go-to color. It's subtle, fashionable, and ideal for color enthusiasts who wish to branch out a little. It also provides the soothing, relaxing impact that you'd desire in your bedroom design. 
Are you hesitant to paint an entire room in a single sage color? Wrapping a strip of color across space is a great bedroom paint concept. It also creates the illusion of height in small bedrooms or places with low ceilings. You can use neutrals with sage to employ this concept in your bedroom. 
For a contemporary twist on a neutral bedroom, overlay it with layers of neutral tones like grey, beige, white, and even black accents. That's how you will attain a perfectly painted bedroom that will look classy and elegant. 
Enjoy The Serenity Of The Sky-Blue And Balance Of Light Grey 
Blue tones are thought to promote clarity, calmness, and purity. It gives your space a warm and inviting feel. The ideal method to incorporate this color into your bedroom is to use decor objects in pastel yellow, pastel green, gold-tone white, and brown tones. These will complement the walls greatly.
The light grey represents neutrality and balance. This grey tone will appear airier, bigger, and lighter when natural light is added. If you want to add refinement to your bedroom, use more delicate linens and hardwood furniture. Adding opposing artworks, white, gold, or silver vases, and contrasting long curtains might boost the design. 
Use Pink – Add A Grown-Up Twist
To add twist to your interior we have come up with another paint colours ideas for house. Opting for pink for your wall paint is an excellent idea if you want to be adventurous. The delicate pink color will make the room appear spacious and more open. While blush pink goes nicely with other pastels like mint green and pastel blue. An excellent third option to match these two colors is grey, white, or black.
Blush pink is a great way to go if you want your bedroom to be a relaxing space. Add a modern trendy touch of pink complementing your furniture to elevate your bedroom immediately. 
Lavender – A Great Way To Freshen Up Your Bedroom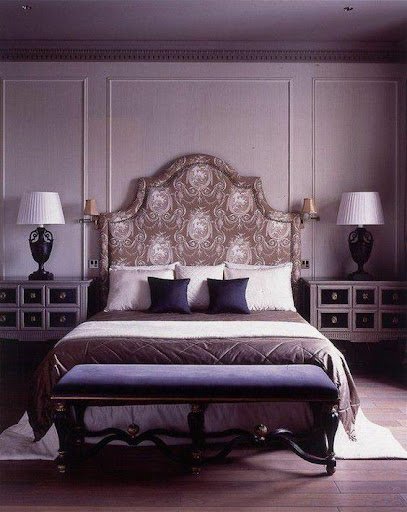 Looking for something luxurious and graceful? Say yes to lavender! Lavender is a flower that symbolizes monarchy, luxury, purity, and elegance. Some people may find it too much, but you can quickly tone it down by color blocking with various things. These will balance down the interior and offer more attraction to your area. 
White, light pink, green, and other earthy tones work well with lavender. Using lavender paint on your bedroom walls is a successful approach to lifting your bedroom's appearance. 
Wrapping It Up!
The walls are a vital element of a room's foundation, and they're frequently the first thing you notice. Repainting your bedroom walls is a significant idea to raise the beauty of its interior. Not only does it allow you to be imaginative, but it also allows you to display your identity through the color of your wall paint. Follow these wall paint color ideas above and turn your bedroom from frumpy to fab!
READ NEXT: Best paints for the year 2021
RELATED TOPICS: interior designs for home