Are you blessed enough to have a guest bedroom? Yes? Then it is time for you to give it a little twist to make your guests feel welcome and at ease. Use some of the easy ways to redo your guest bedroom decoration design from frumpy to fab and bring the attention of your visitors right away. Here are some tips for luxurious bedroom interior design for guest bedroom.
Getting your house prepared for guests can be a lot of fun. You have to take special maintenance of your guest bedroom decoration design out of every area in your house interior design. This should be a place where they feel at home and spend their days in a comfier environment. 
When it comes to decorating a guest room or bedroom interior designing, there is a lot to consider, from the Home Décor Ideas to the storage. You want your guests to feel delighted and have everything they require, whether it's a mirror, ample storage, or a reading lamp. You can alter your spare room into an inviting retreat for guests with only a few easy alterations.
Ways To Boost Your Guest Bedroom – An Ultimate Guide
Get rid of your old worn-out room and convert it into a more sleek, classy, yet comfy place for your guests. Continue reading for a detailed list of items and upgrades you can do to create a welcoming guest Bed Room Design. 
Make Space in Your Guest Bedroom Closet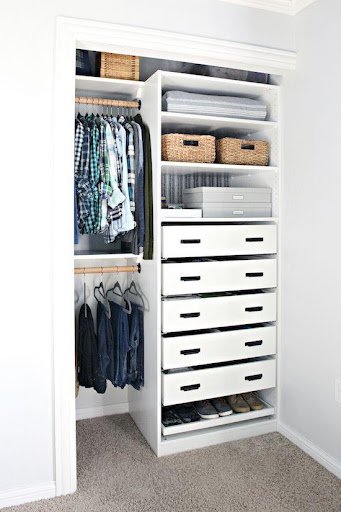 If your guest bedroom closet is overflowing with waste materials or clothes you don't use, it is time to clean it out. Your visitors will like being able to hang their clothing when they arrive. Ensure there's enough room on the shelves for folded clothes, shoes, and travel bags. 
Moreover, if your guests prefer thicker bedding, have additional blankets or throws folded in the closet. You can do the same for toiletries. Depending on your bathroom setup, leaving guests with everything they need, including towels and toiletries, is a good idea. These small steps in upgrading your room will let them think about how important they are to you. 
Brighten Up Your Guest Bedroom With Proper Lighting
Lighting ideas is an essential component that you must keep in mind for house interior design in india. Make a calm and cozy environment by adding proper lights. Try installing color-changing lights from warmer to cooler tones to adjust according to your guest's needs.
LEDs, or light-emitting diodes, are the most long-lasting and energy-efficient bulbs available. They're an excellent go-to bulb for every situation. 
Ambient lighting is best done with ceiling fixtures, including pendant lights, chandeliers, or portable lighting such as floor lamps. These not only help to keep the atmosphere comfy but will look stunning and elegant as well. It is a great way to change the appearance of your guest bedroom from dull to highly engaging. 
Say Yes To Upscale Wallpapers
Wall paper improve the interior designs of bedroom. With a stunning wallpaper collection in the market, you can transform your space quickly. You can choose from various rich colors and patterns like flower motifs. You can pick any style you like, from luxe style wallpapers to vintage and vinyl, but it has to go with your overall Bed Room Design ideas. 
The beauty of a guest room is that you can be much more creative when decorating it. You can make a highlight wall by wallpapering only one wall and paintings the other three in neutral colors. This is your opportunity to try out a bold pattern or design that you've always admired.
Don't Forget The Curtains And Beddings
Any windows that aren't covered can be dressed up with affordable blinds, curtains, and roller shades. Using neutral shades is highly trendy these days. On the contrary, if you want something dramatic for your guests, try installing bright shades that will brighten up your guest bedroom Design Inspiration. 
While updating your guestroom, it's crucial to install a comfy mattress. Choose a mattress with featherbed on top with luxurious cushions. Add blankets and pillows with neatly ironed pillowcases. After you've made a fantastic bed for your guests, it will help create a relaxed vibe in the room.
Adding the finishing touches Like Mirrors And Rugs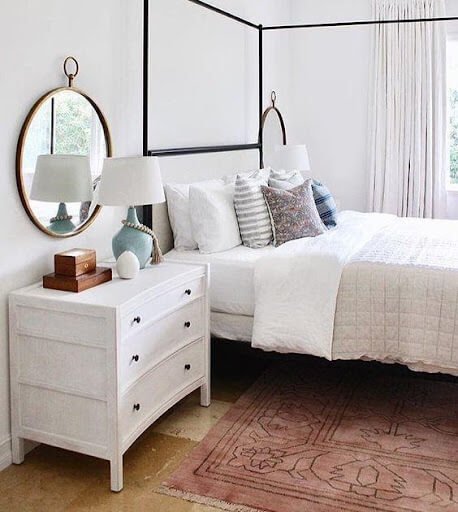 Your visitors will feel properly taken care of with the right accessories and finishing touches. If you have a space left in your guestroom, you can install a small vintage desk and chair in the corner. This will help them in their working hours. Adding a bin and a mirror to the walls will make them feel homier and help them get ready conveniently.
If you have a hard floor, you can put down a rug to keep your bare feet warm. Bring the outside in with a houseplant or a vase full of fresh flowers for another wonderful aesthetic touch.
Wrapping It Up!
So, these were some awesome ways to upgrade your guestroom from frumpy to fab. After reading the above list, you will be well on your way to constructing a superb house interior design in india of bedroom. All the best!
READ NEXT: Latest Bedroom Design Trends That Are Here To Stay [2022]
READ NEXT: Interior design for bedroom
Bedroom Wallpaper Design Ideas
Bedroom Design Tips for Better Sleep
Latest Bedroom Design Trends 2023
Easier Ways To Soundproof Your Bedroom
Red Hues to Make Your Bedroom More Trendy